Find best-fit customers in Real Estate?
How a real estate market place and Spotzi work together
2021-03-26 REAL ESTATE DATA ANALYTICS, SALES DATA, TRENDS
---
When shopping for a new home it is all about finding a house or apartment that fits your lifestyle. When future homes perfectly match the demand of house hunters the result is happy home owners, happy realtors and happy property developers. Property developers in particular will have the comfort of knowing their new built homes will be sold quickly for the best price possible. We took upon the challenge of building a dashboard that helps in matching demand and supply. For many years we work closely together with online real estate marketplace JAAP.NL in the Netherlands. This marketplace is being owned by media company called Mediahuis.
A Dashboard with real estate market trends. A must-have for investors.
The result is a free house hunter dashboard that will be updated on a monthly basis. For more detailed information, a subscription can be purchased. With this subscription, over 50 trends are mapped out. You can see exactly where people are looking for a new home, what the demand is for a specific type of home and how the supply compares to demand. This is complemented by asking prices, demographic characteristics, education, social class and much more. This helps developers and investors to better match supply and demand. Provinces and municipalities are able to make better policies on this.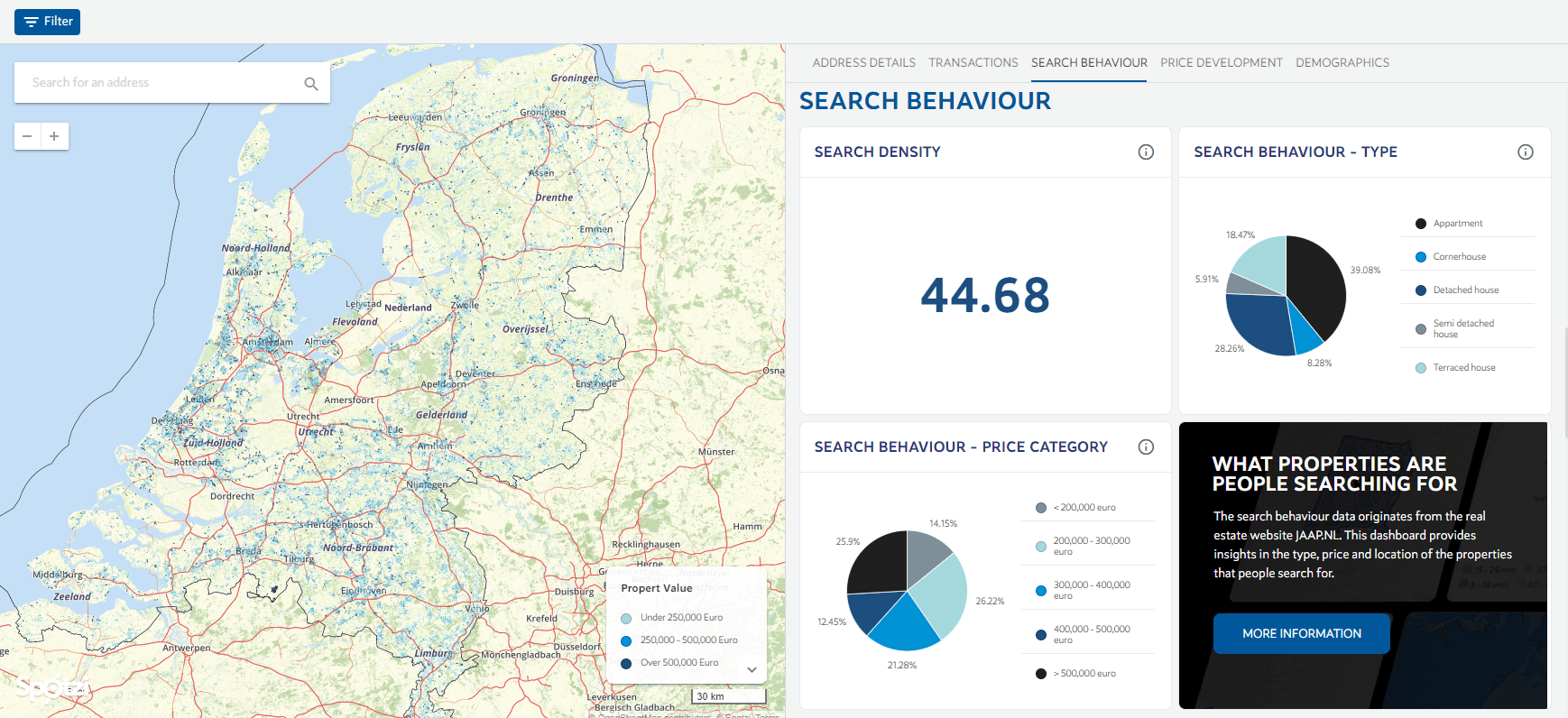 Real estate data analytics to the best-fit customer for your project
When having insights into the lifestyle of the house hunter it is also much easier to define your marketing strategy. You are able to send out the right message to the right audience. In our dashboard you can find the best fit customers for your real estate project. You can then instantly target this audience online through our partnerships with Mediahuis or other media companies.
Real Estate Data Dashboard available in more countries?
Results in the Netherlands proved to be successful. CTR has improved by 200% and people feel more engaged. We are now working on expanding our house hunter dashboard into more countries. We are connecting with urban planners and marketers around the world. Would you like to join the conversation don't hesitate to contact us!