Help Center Spotzi Studio Spotzi Dashboards. An introduction
Spotzi Dashboards. An introduction.
2 MIN BEGINNER EDIT STYLING, CUSTOM PATTERNS, CUSTOM MAP MARKER
---
Got a beautiful and insightful map that you want to share with your customers, colleagues or fellow students? For those people we introduce My Dashboards. A great way to give other people access to the interactive Spotzi maps and dashboards that you made.
For publishers
People that are publishing maps and location dashboards have an extensive range of map sharing options where they can add the following elements to your dashboard:
Layers menu: This menu shows every available layer of a map. It allows users to turn these map layers on/off.
Infowindow: The infowindow shows more information about a map feature when you click on it. You can turn this feature on/off or you can choose whether you want to show this information in a large information block.
Search bar: The search bar allows your user to search for locations within your map. You can turn this feature on/off.
Zoom buttons: Choose whether you want to enable zoom buttons on your map.
Legend: Choose whether you want your user to see a legend.
Static map: Don't you want your user to pan on the map? Make your map static and disable map panning.
By default, Spotzi offers some map sharing options with predefined options. We also offer a custom option where you can edit every option. Click here for more information about our map sharing options.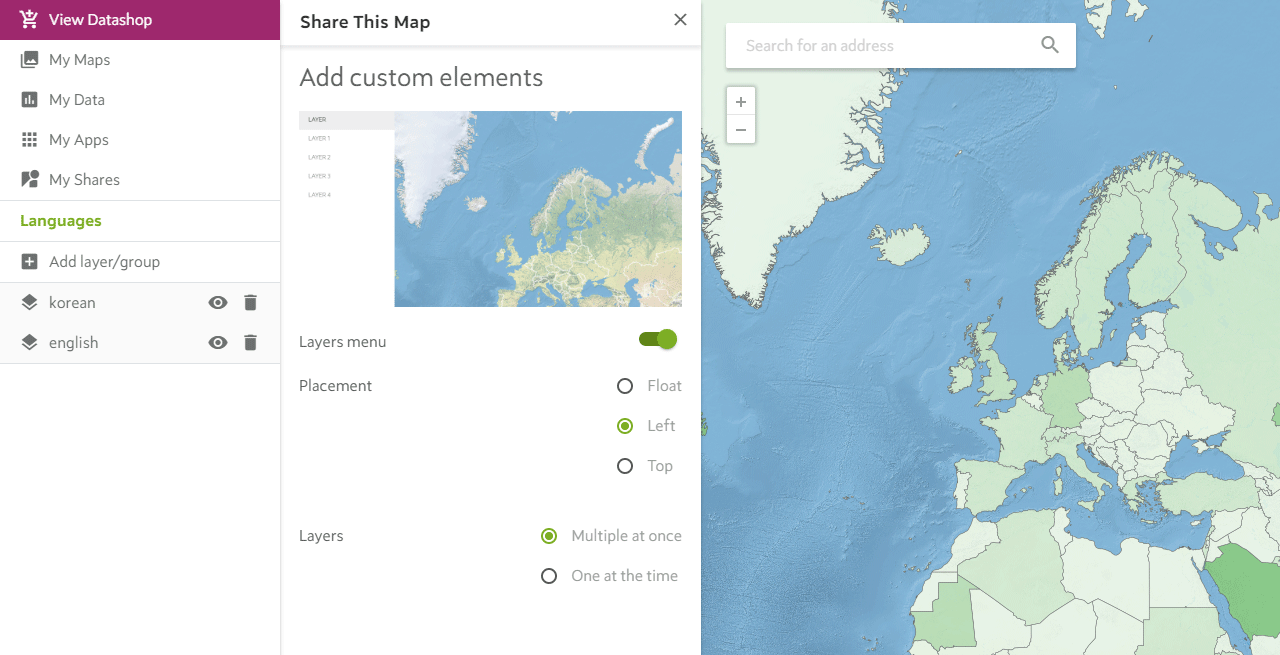 After you have created your map the following sharing links are created:
the sharing link of your map
the embed URL of your map that allows you to add an interactive map to your website
the javascript URL for integrating your map in any web application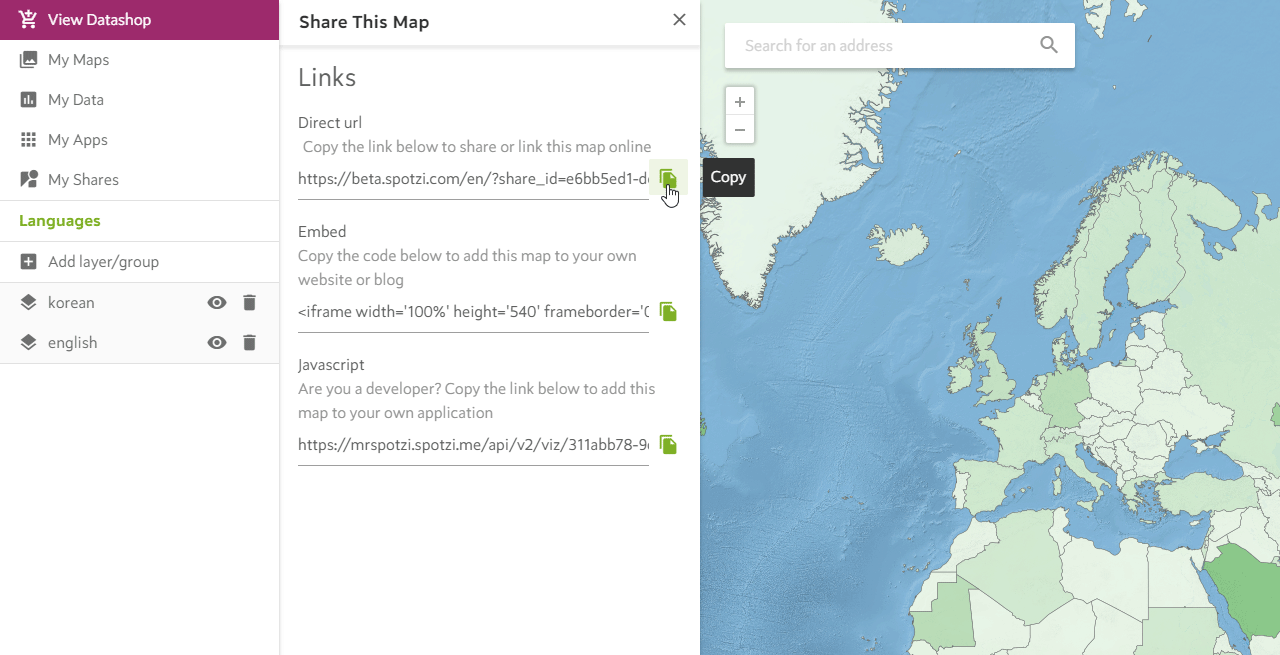 If you are an Spotzi Insights user, you also have some additional options:
User management: With our advanced user management we have created an interface where you can manage all the users that have access to your dashboard. Our user management allows you to grant access to Mapbuilder users, but also people that don't have an account (guest users).
Activate your dashboard for a limited period: With this functionality you can enter the period in which your dashboard will be active.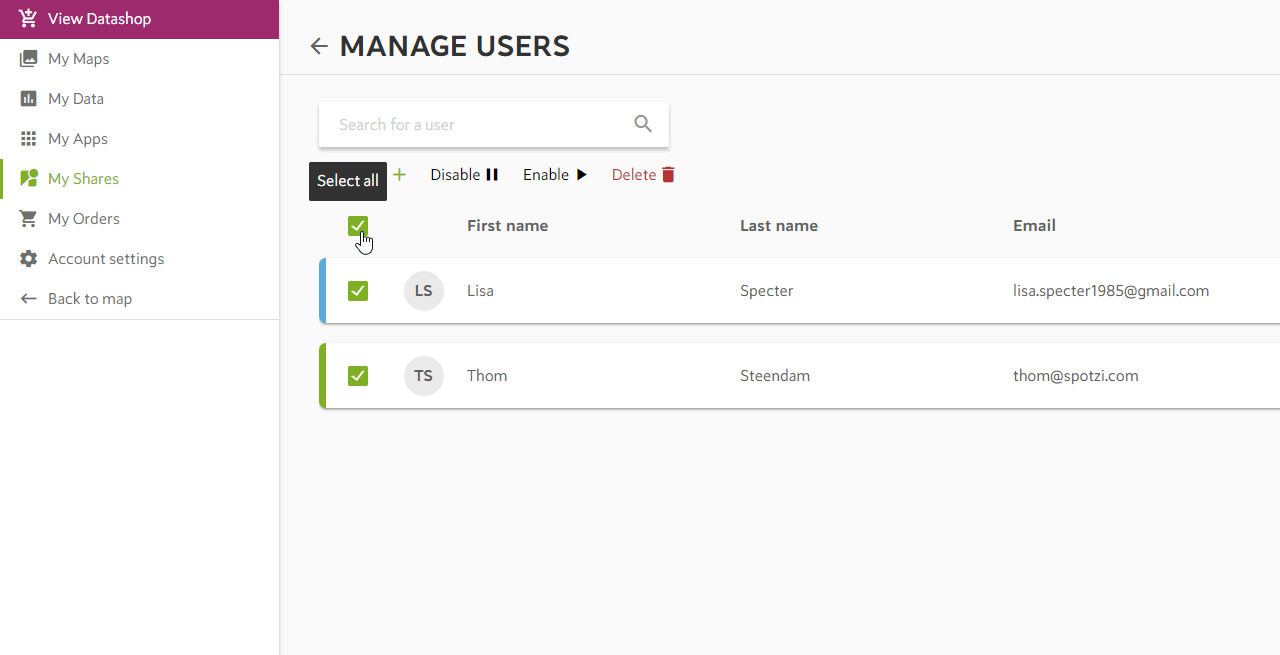 For users
Users of a shared map have access to the beautiful and insightful shares that Spotzi has to offer. When you have access to a shared map where a login is required you can login with the e-mail and password of your Mapbuilder account. If you don't have a Mapbuilder account yet? No problem. The publisher of the map you want to access can easily create a guest user for you. When you are registered, Spotzi will automatically sent an e-mail with your credentials.