Locate Properties and Listings
Spotzi is ideal for mapping real estate. We offer interesting data (e.g. market price, year of construction, property type, etc.) that will help you analyze your real estate objects. Spotzi also has a large real estate database covering the United States, Canada, and Western Europe. It provides an easy way to leverage your real estate data on a bigger scale such as pre-movers.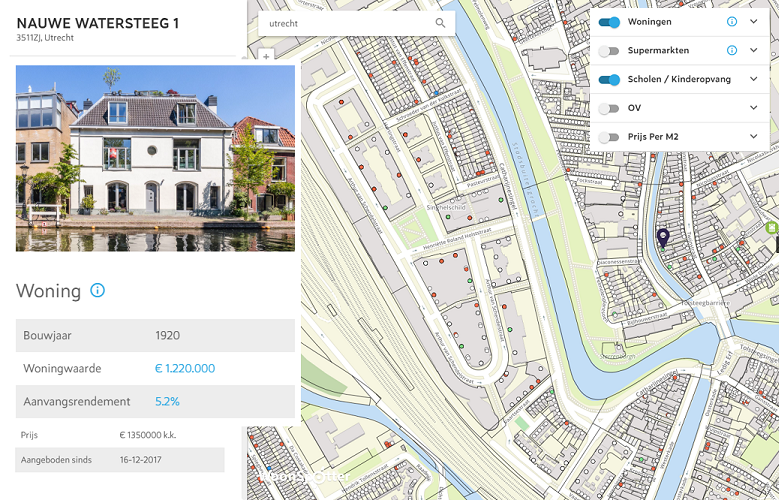 Real Estate Data
Gain more insights into real estate
We have developed the real estate dashboard especially for property investors and property developers. For each private and commercial property object, among other things, the value and the initial yield can be requested. We also offer insight into the turnaround time and price per square meter of each neighborhood in the Netherlands. Our customers increase their turnover by at least 10% thanks to our dashboard.
Intelligent 

tools

Mapbuilder Enterprise

Our Mapbuilder Enterprise subscription is part of our Real Estate Package. Every month we map out price developments per housing type per neighbourhood. It is also possible to request real estate price history of every neighbourhood. This information gives you more insight into new high-potential areas.
Use Case
Dura Vermeer
Tracking housing price development is a complicated process, because real estate prices fluctuate on a daily basis. Up-to-date real estate data is therefore essential. In addition, you need tools to visualize and process data to interesting new insights. Dura Vermeer is a large real estate developer that was struggling with this complex data demand. A question that they have been able to solve with Spotzi data and dashboards.
Our data
Besides our real estate dashboard we also offer the possibility to order real estate data for your own Business Intelligence Tools.