OUT-OF-HOME ADVERTISING. ADAPTING TO A QUICKLY CHANGING INDUSTRY
A map to overcome OOH advertising challenges
OOH (Out-of-home) advertising is an industry that is changing quickly changing due to new technologies. Static billboards are making way for digital billboards that can dynamically change the advertisement. These developments create lots of opportunities to make out-of-home advertising more interactive and effective.
Branded Cities is one of the greatest and most innovative out-of-home advertising providers in North America. They own digital billboards, enormous spectaculars, brand activation campaigns and many more. Branded Cities owns lots of billboards on iconical places (e.g. Times Square) around the United States and Canada. The only thing they were missing was a clear overview of every asset they own. They were looking for a quick and easy way to show their clients all available assets, but also the possiblity to contact them. Along with Spotzi they developed a unique tool that ticks all the boxes.
"Mapping was a great way to gain a clear overview of all our assets. For us and for our clients."
A clear overview of all assets on a digital map
Mapping was a great solution to gain a clear overview of every asset they own. The map allowed them to get a overview of all assets and the billboard density at a glance. The locations of every billboard, bus shelter and other OOH assets were easily plotted on the map with the Spotzi Geocoder.
Assets within a building like Union Station in Toronto were a greater challenge. Along with Spotzi we created the idea to draw the full ground plans of stations and airports on the map. By zooming in you can visualize all assets in a building. That's why we made a distinction between OOH advertising assets on the street and in buildings that needed a much more detailed approach.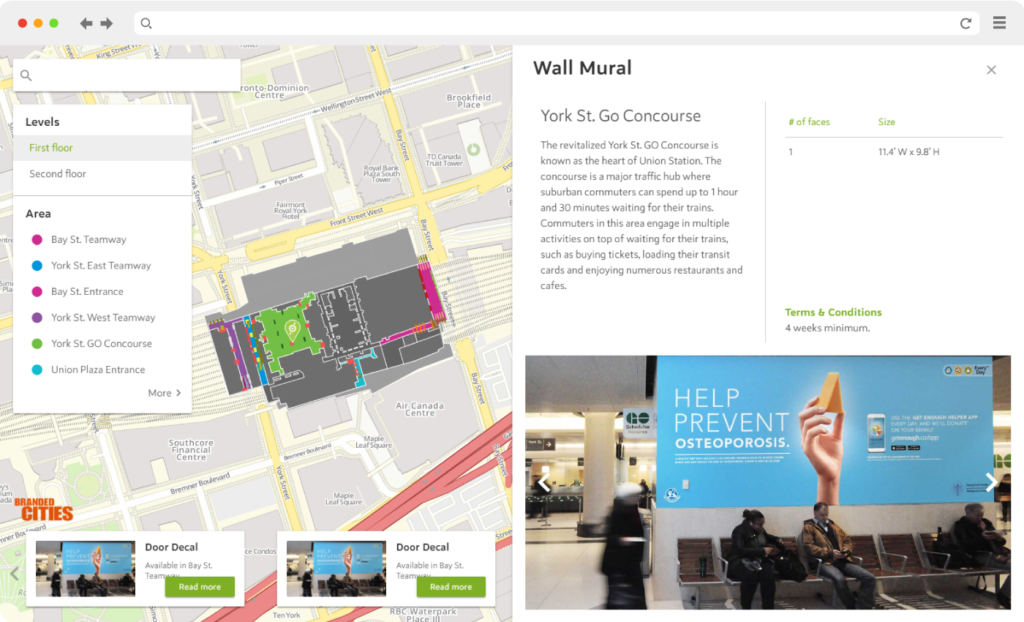 Request assets and information directly from the map
To give clients more insight into the possibilities of (digital) out-of-home advertising we enriched the asset locations with more information like photos, videos and descriptions. With the push of a button they can filter out the assets that are most interesting for their advertisers. They can create filters based on demographics data, but also based on the proximity of certain POIs. With this complete tool Branded Cities can easily analyze asset locations and recommend the best assets to their potential customers.
When someone is interested in an asset it has to be as easy as possible to contact the right person. That's why Spotzi developed a shopping cart module to enable customers to directly order multiple billboard locations. After completing the order an email with the entire order list is sent to Branded Cities. After receiving the email the sales team has all the information they need to contact the customer and complete the order.
This is a very cost-effective solution that saves a lot of time because all the information they need is directly sent to the sales manager. Before they had to request this information by email and phone.
Do you want more information about this solution or do you want to know how Spotzi can help out your company? Contact us by using the contact form below or call us at + 1 416 649 3522.
About Spotzi
Spotzi offers intelligent and user-friendly data and mapping tools. Moreover, we add value to this data. We analyze and visualize location-based data with our Mapbuilder. This results in powerful visualizations that helps our customers to find answers to all their business questions. We help businesses to make strategic business decisions, discover new interesting markets, set up targeted marketing campaigns and increase sales. In other words, to be successful.