Heembouw Case Study
How Heembouw gains more knowledge about potential customers with the use of postal code areas
Heembouw is a construction company that is specialized in creating working- and living environments. In the developing process they are always looking for the most perfect product market combination. That's why Heembouw was looking for a solution to quickly gain more insight into customers that have shown interest in new construction projects. "We are continuously searching for possibilities that distinguishes us from other construction companies. Therefor we need data to substantiate our choices. With the consumer styles of Spotzi we have the data to gain the desired insights."
Remco Dolman
ACCOUNT MANAGER
---
"By visualizing customer data by postal code we can see where potential customers are coming from. Combined with the consumer behaviour data of Spotzi we can gain more insight about the type of customers."
Plot potential customers on a map
To localize potential customers Heembouw uses the possibility to combine address lists to postal code areas with the Join App. This enables them to create a postal code map where only the areas with potential customers are shown. This map allows them to plot out their customers and visualize where the interest is coming from.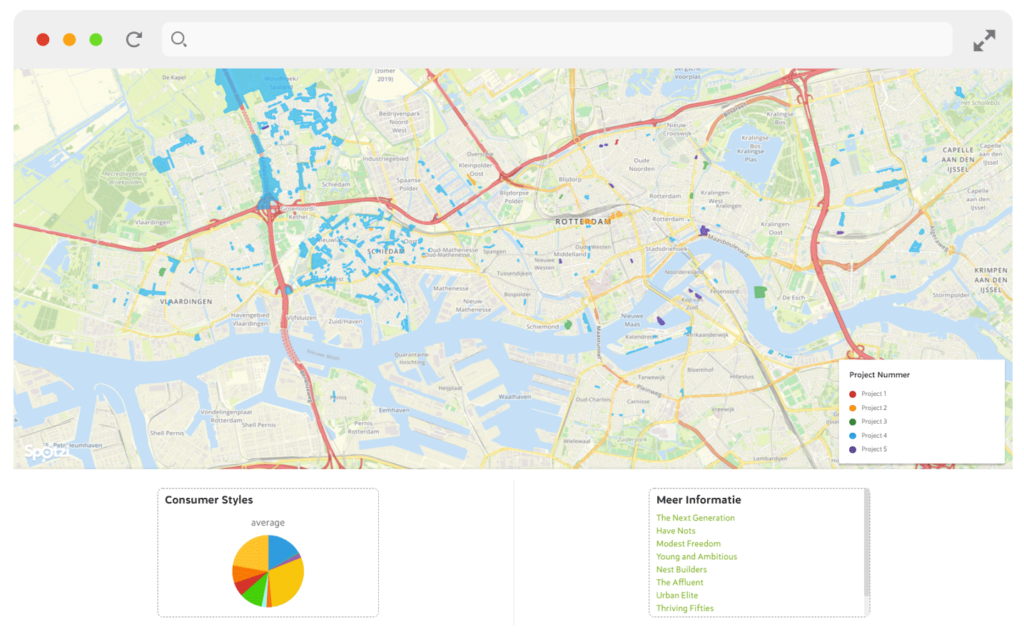 Gain more knowledge about interested customers with Spotzi data
Because Heembouw segmented their customer data at postal code level it is possible to enrich their database with other Spotzi datasets that are also segmented by postal code. That means that besides localizing customers this visualization can also be used to gain more knowledge about your target group.
Spotzi offers a wide range of geographical data about demographics, income and consumer behaviour. For instance our consumer styles data. This data is based on a data model that divides the population into 10 consumer profiles. Spotzi has this data available at a 6-digit postal code level in the Netherlands. A dataset that Heembouw has used to enrich their customer data visualization. This addition not only enables Heembouw to localize their customers, but also gain more knowledge about the type of customer and the consumer behaviour. Data that is used to create living environments that suit the housing needs of their potential customers.
Do you want more information about this solution or do you want to know how Spotzi can help out your company? Contact us by using the contact form below or call us at + 1 226 444 7997.
About Spotzi
Spotzi is specialized in location data and analytics. In the Spotzi DataShop we offer a rich variety of geographical data sets with postal code areas, addresses, consumer behaviour, demographics, income and real estate. Along with the Spotzi Mapbuilder and MapApps we offer a complete solution for companies that want to gain more insights from their data. 
Interested? Please contact us!