LOCATION-BASED DATA FOR DEVELOPING A DATA DRIVEN STRATEGY
Segment customers by postal code
The biggest challenge for real estate developer Heembouw is to build business premises and living environments that fully match the needs of their clients. This raises some questions: Where are potential customers coming from and what are their needs? Customer data is crucial at this point. Spotzi mapped out possible customers by postal code and enriched this data with information about income and consumer behaviour. With this solution, Heembouw can identify potential customers and realizes successful new construction projects.
Heembouw wants to add value to their customers. This is only possible if the company has knowledge about its potential target group. Based on these insights it can develop distinctive strategies. "We were looking for a solution to gain a quicker insight into customers who might be interested in new construction projects, but where do you find data that is correct and also offers valuable insights? Only factual data is not enough, we also needed interpretations to be able to make the right strategic choices. Spotzi's location-based data turned out to be an ideal solution for us."
"This location-based data helps us to tailor construction projects to the housing needs of potential customers and to develop more successful new projects."
Spotzi maps out customers
Heembouw already had a large database with addresses of potential customers, but only address data did not provide enough insights. The user-friendly Join App from Spotzi changed that. This app linked the customer database to postal code areas and created a dataset containing only the postcode areas with interested customers. "With one push of a button, we mapped out our customers and located them. This made it easier to choose the most suitable construction sites."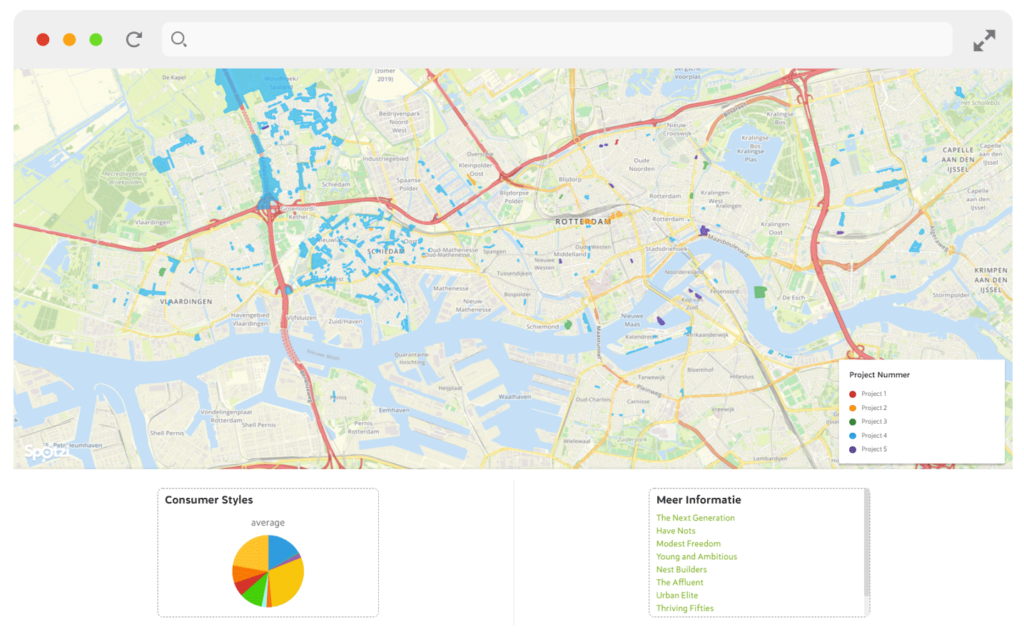 Consumer Styles Data Spotzi
Because the customer database is segmented at postal code level, the data could be enriched. Spotzi has a wide range of geographic data that provides valuable information about demographics, disposable income and consumer behaviour like consumer styles. These maps are developed by Spotzi and visualize consumer profile models in the Netherlands and other countries. This data is available at 6-digit postal code level and can seamlessly be linked to the maps of Heembouw. "Our maps not only provide insight into the location of customers, but also customer type and consumer behaviour. This location-based data helps us to tailor construction projects to the housing needs of potential customers and to develop more successful new projects."
Do you want to map out your customers?
Do you want more information about this solution or do you want to know how Spotzi can help out your company? Contact us by using the contact form below or call us at + 1 416 649 3522.
About Spotzi
Spotzi offers intelligent and user-friendly data and mapping tools. Moreover, we add value to this data. We analyze and visualize location-based data with our Mapbuilder. This results in powerful visualizations that helps our customers to find answers to all their business questions. We help businesses to make strategic business decisions, discover new interesting markets, set up targeted marketing campaigns and increase sales. In other words, to be successful.