Import a CSV/Excel with addresses
access_time 8 MIN  | fiber_manual_record BEGINNER  | label IMPORTING LOCATION DATA, LOCATION DATA, GEOCODING, IMPORT EXCEL, IMPORT CSV
---
If you want to create a map from a CSV or Excel file containing locations you have to import your CSV or Excel file into your Spotzi Mapbuilder Account. After that you can add a geometry to your data by using the Spotzi Geocoder. Please read further to learn how to do this.
We will use the following table to geocode:
| Description1 | Description2 | Street/tdth | Number | Zip_code | City | Country |
| --- | --- | --- | --- | --- | --- | --- |
| Spotzi | Office the Netherlands | Veilingdreef | 17 | 4614RX | Bergen op Zoom | The Netherlands |
| Spotzi | Office Canada | Front Street East | 100 | M5A 1E1 | Toronto | Canada |
Spotzi Geocoder
Do you have an address-list that you want to visualize on a digital map but do not have any coordinates (latitude/longitude values) attached to these addresses? No problem! Use the Spotzi Geocoder!
We offer Spotzi Mapbuilder users a free geocoder. This tool allows you to add an address-list (without coordinates) to your Mapbuilder account. The Spotzi Geocoder will automatically add a latitude and longitude to the locations in your file. Also the Geocoder will return information about the quality of the geocoded data (good, medium, bad).
After geocoding your data you can create a map to visualize your data. It will be stored in your mapbuilder account. You can also export the geocoded data to the following formats at any time: CSV, XML, geoJSON, Shapefile.
Step-by-step guide
---
To geocode the data from the above example you have to follow the steps below:
1. Log into your account, go to My Maps and press CREATE MAP.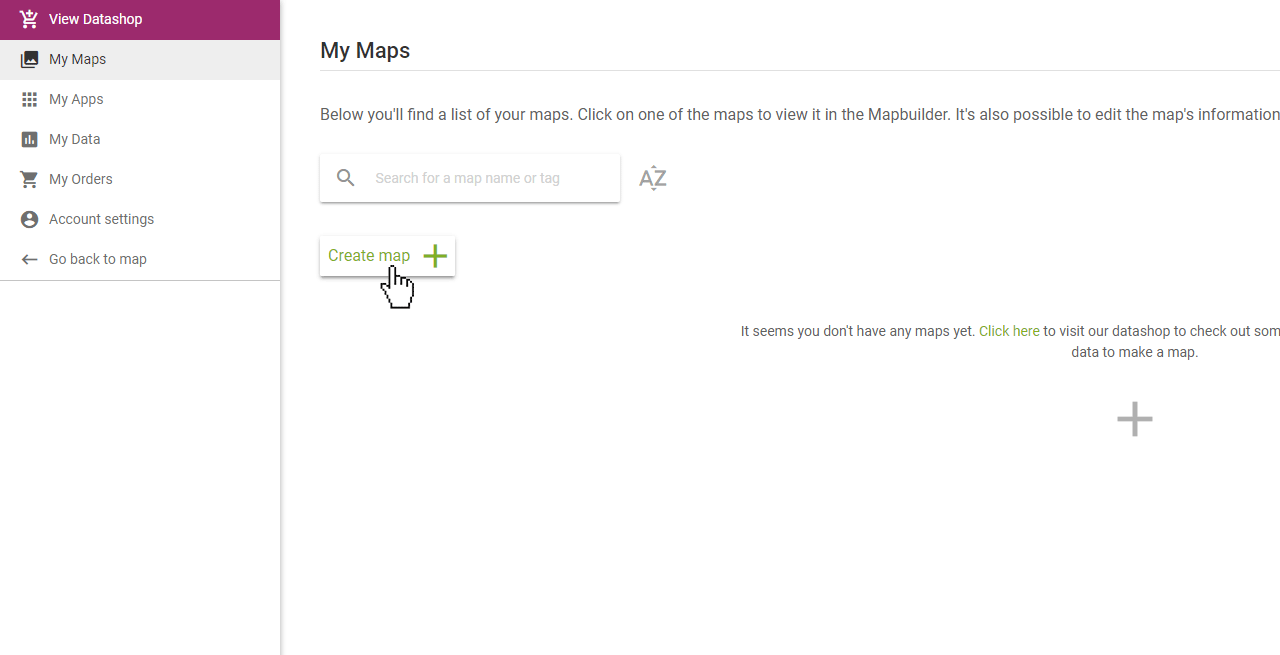 2. Click on CREATE MAP FROM FILE.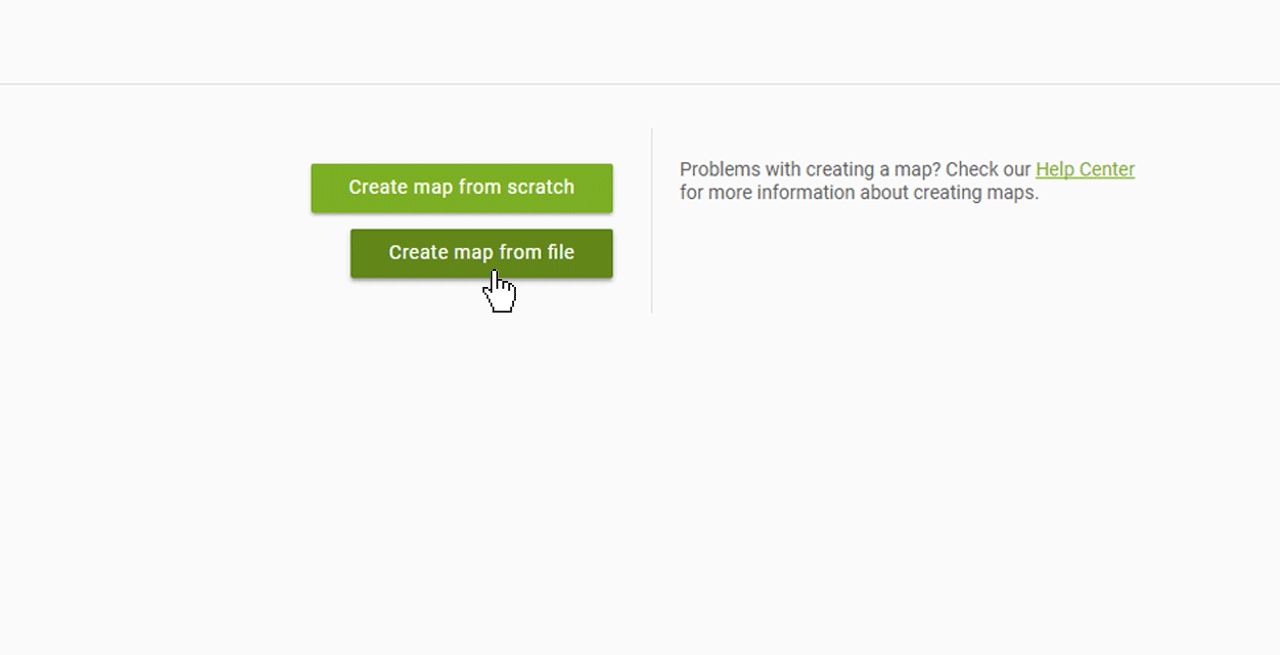 3. Type a name for your dataset into the field TABLE NAME  and click on FILE to select the file you want to upload to the Spotzi Mapbuilder. Press IMPORT.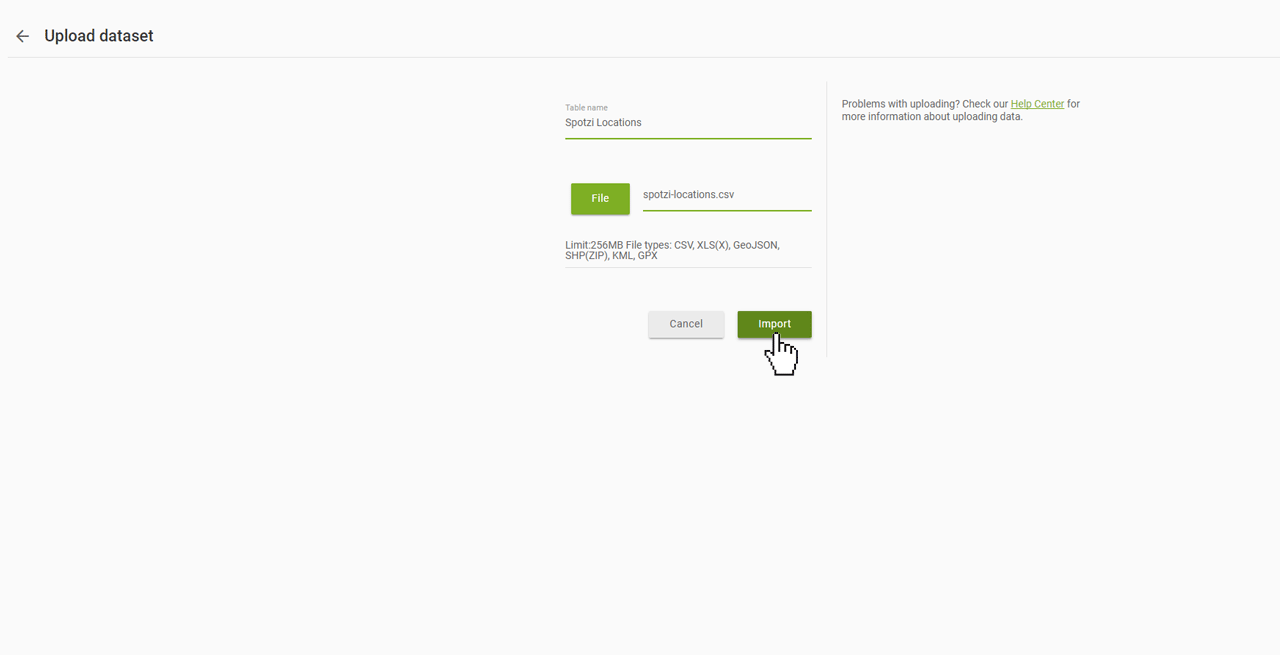 4. The system checks whether your dataset contains a geometry. If this is not the case Spotzi will display a notification that your dataset needs to be geocoded. Press the GEOCODE button to start this process.
5. You need to tell the Spotzi Geocoder which colums in your dataset refer to a specific location (e.g. a city name). Spotzi will prefill most columns, but you can choose other columns if necessary. Got multiple values in one column (like street and house number)? Select the same column for both location types. Press IMPORT.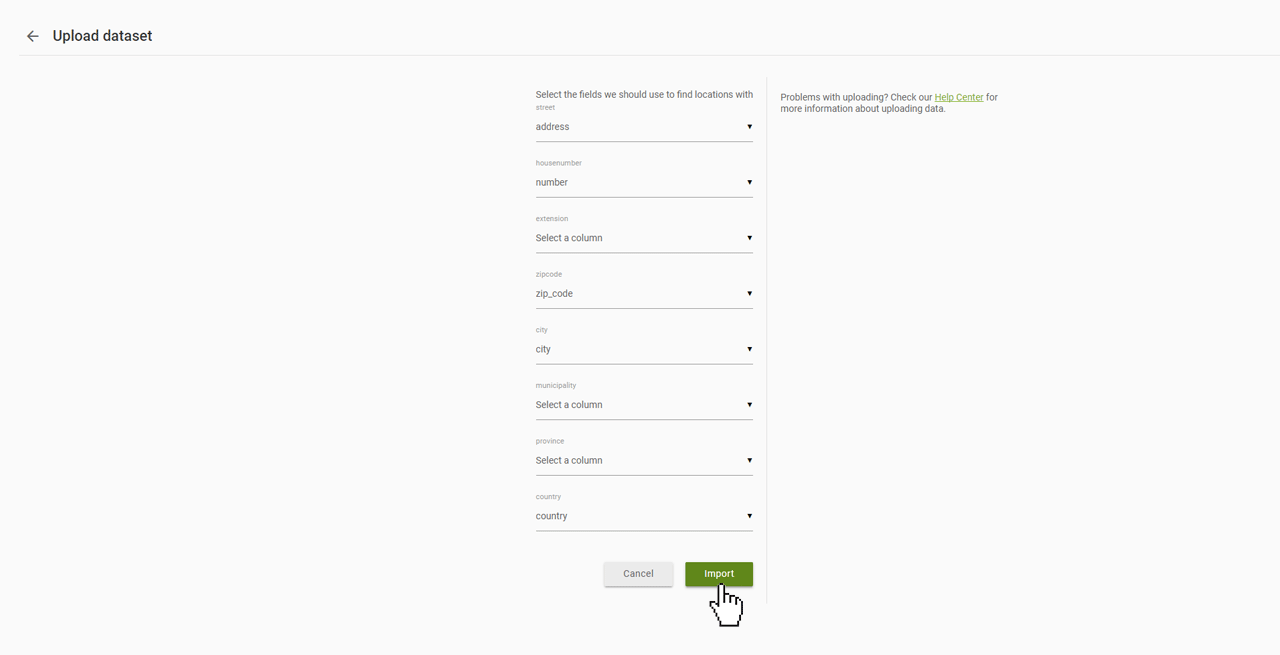 6. The Spotzi Geocoder is now analyzing your file. It tries to find as many locations as possible. The more information you provided in the previous steps the better it can handle your data. The progress bar  that has appeared on the interface tells you how far the analysis has advanced.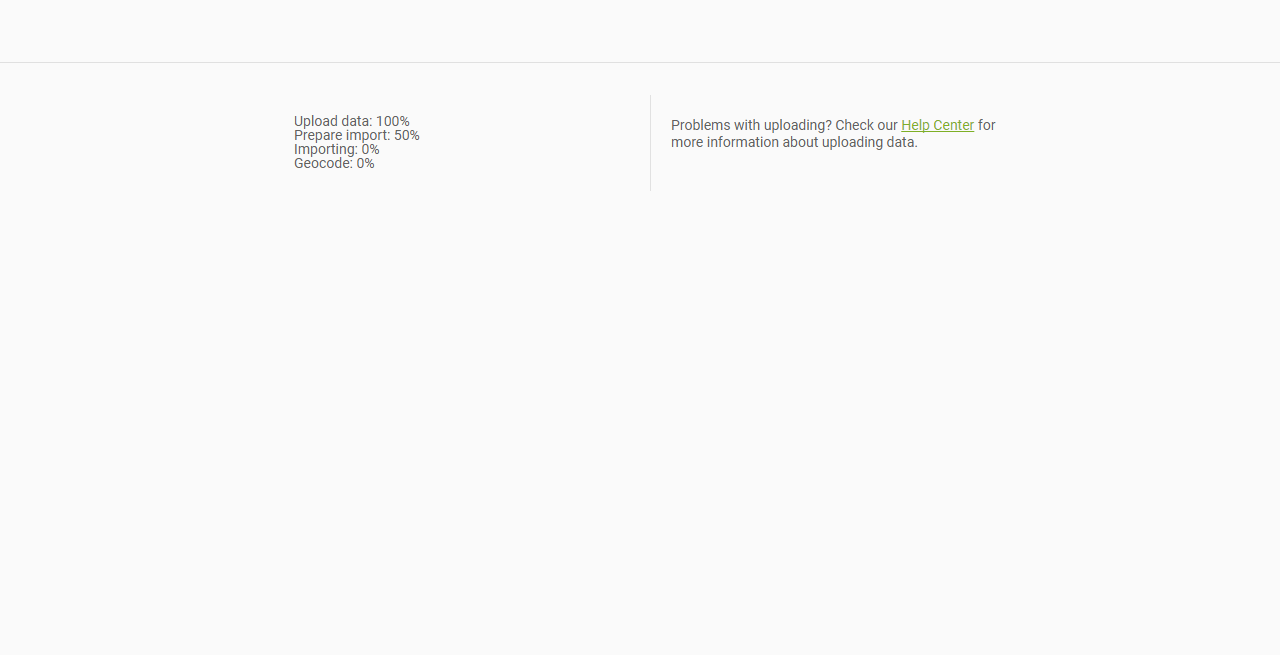 7. After your data has been uploaded successfully  you will be able to access your data on your MY DATA homepage. To get to the MY DATA homepage press the link you can now see on the interface.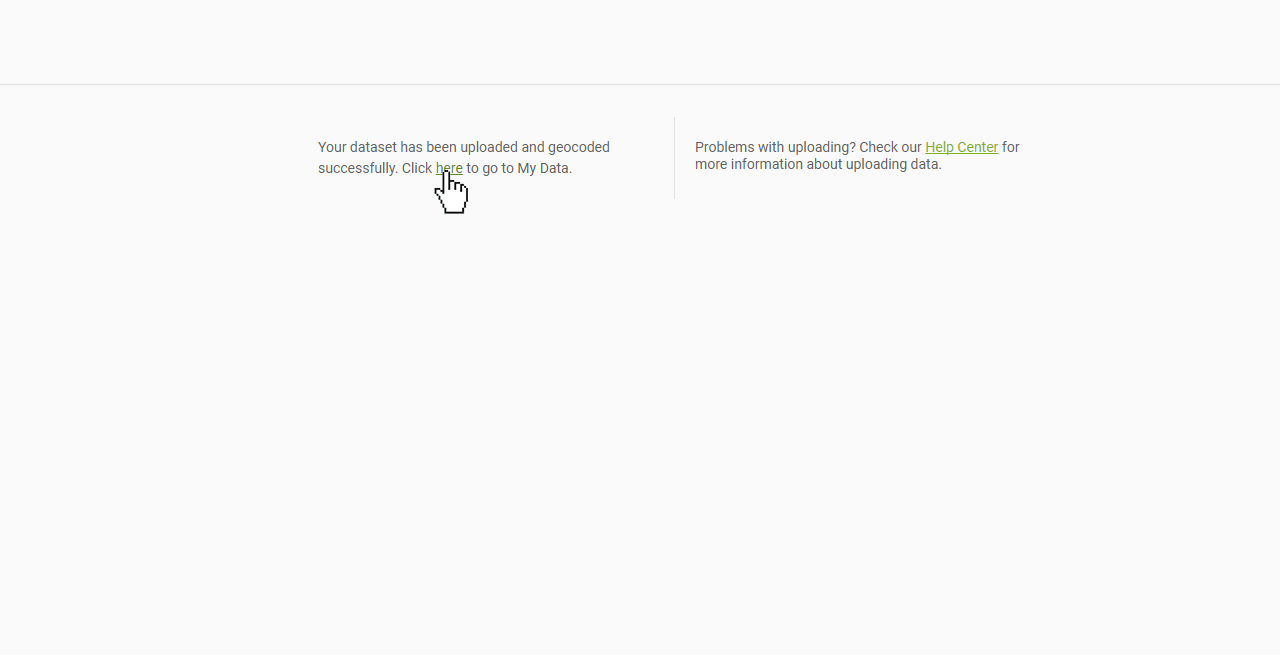 8.  On the MY DATA page you can create a map from your data. In order to do so press the CREATE MAP button on the right side of the name of your dataset.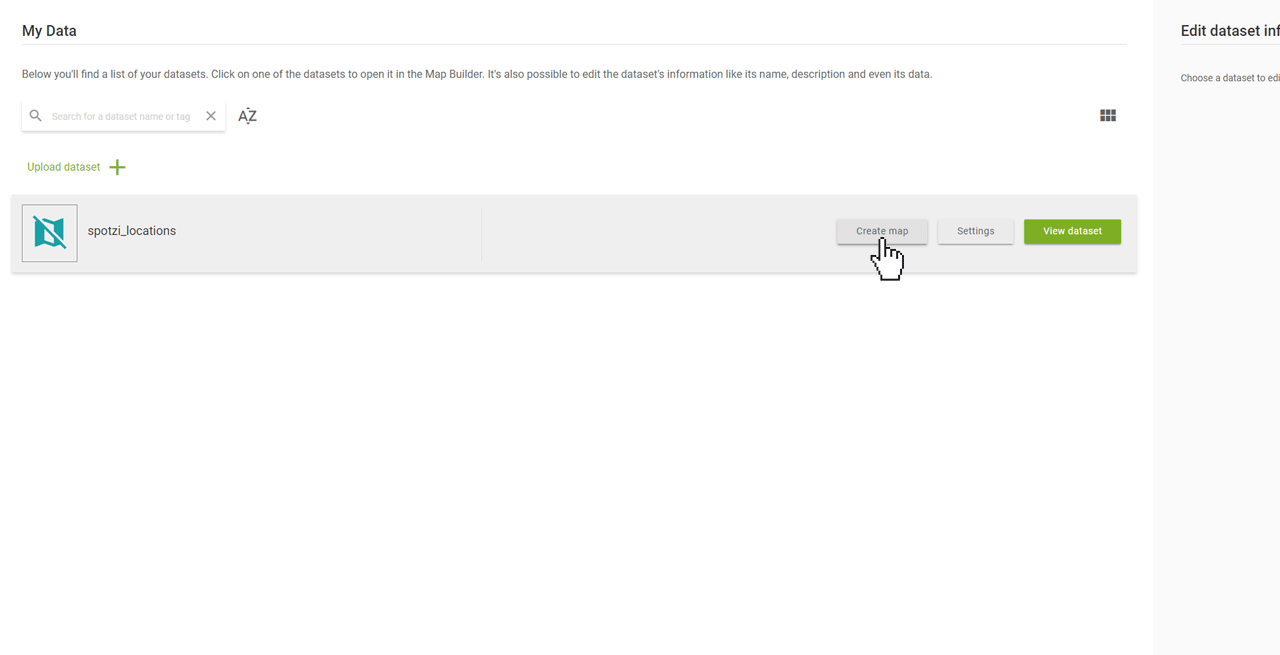 9. Give your map a name (max. 48 characters) and press CREATE MAP.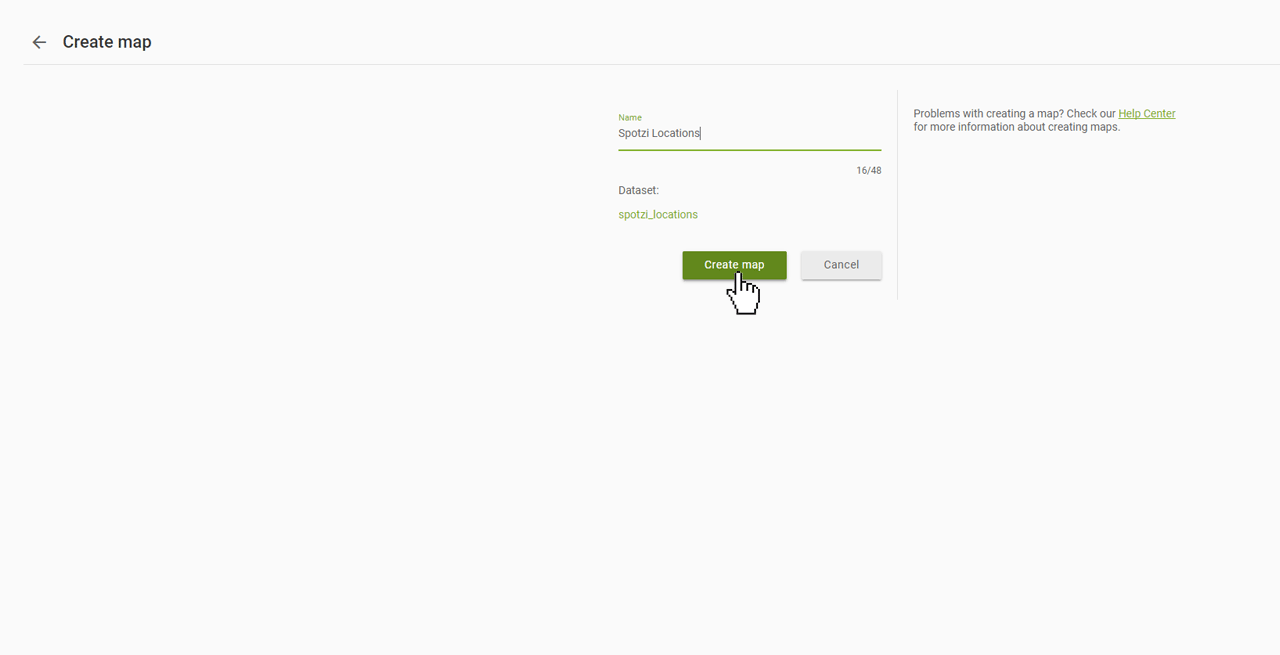 10. After your map has been created successfully you can open it by pressing OPEN MAP.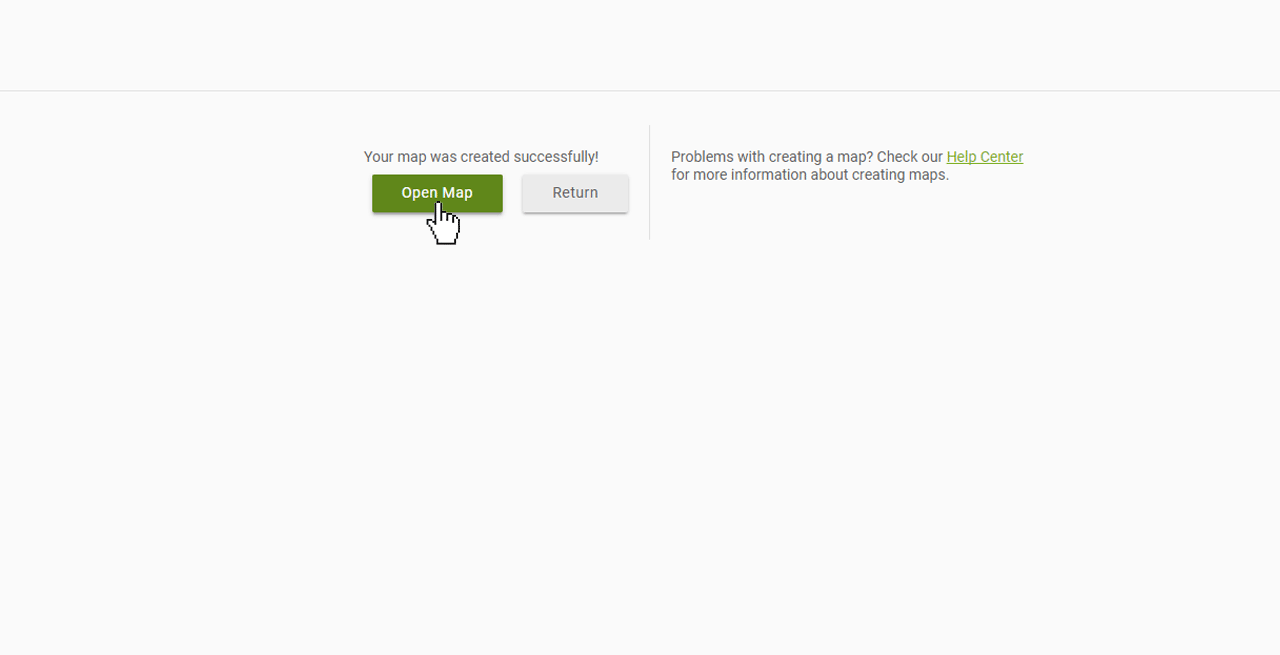 11. Congratulations! You have successfully uploaded a dataset to your Mapbuilder account. Now it is time to style your map the way you like. For more information about styling your map, please consult the topics styling multiple features or styling each feature individually  in our help center.