Location Based Marketing
Our world is more connected than ever. Our smartphone has become the most important device for surfing the Internet, checking the latest news and shopping online. In contrast, we also live in a world where we watch TV, listen to the Radio and cut out coupons from newspapers and flyers. Outside, we pass by Billboards and still see screens with advertisements in elevators and supermarkets on a daily basis. This world seems far removed from the online world. It seems a challenge to bridge the gap between online and offline consumer behaviour. But with the right tools and the right data, this is easier than you think.

Connect your online and offline databases by location
Location data connects the online and offline world. Location data allows you to target your audience where they are or have recently been. This can vary from targeting users who live in certain zip codes, to targeting smartphone users that have recently been to a car dealership, for example.
Open our audience path dashboard
Geofencing Retail Stores
In many cases the residential location can also be linked (anonymously) to the travel behaviour. If you have data about the residential location (such as age, income and interests such as hobbies and sports) a very powerful location-based marketing tool is being created. Take as an example the smartphone that has been to a car dealer. If you link this smartphone location to the anonymous residential location you can, for example, target a specific ad for a car insurance to young people under the age of 30.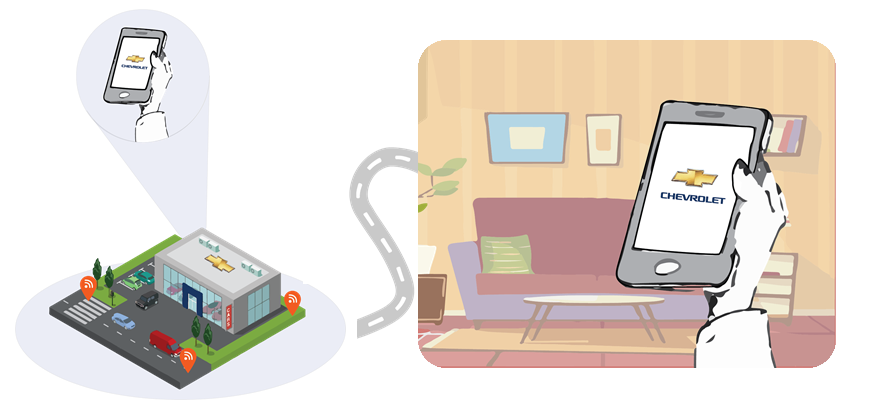 In our location-based marketing platform, we allow advertisers to specify a desired location in combination with defined criteria (such as demographics, behavior, interests, etc.). Furthermore, it is possible to reach this target group online, via facebook, smartphone apps and even billboards. It is almost as easy as drag and drop.
Check out our Location Data
Location Based Marketing and Digital Out-of-Home
We are able to build a geofence around every billboard in the world. We then record the locations of smartphones that pass by a billboard. In this way, an ad seen on a billboard during the day can be shown on a smartphone of your target audience who is browsing on the couch at night.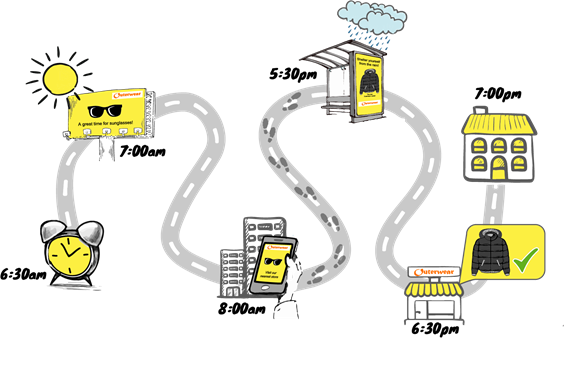 How is this information collected?
Data collection and the ethics surrounding it are coming under increasing scrutiny, as evidenced by growing concerns about user privacy and regulations aimed at protecting it. While the expanded pressure for data regulation creates challenges, it also presents an opportunity to build a base of trust with customers. Getting user consent and understanding how location data is used can help maintain customer trust and deliver meaningful content on the way to purchase. We therefore keep in close contact with our data providers so that privacy and trust can be emphasised continuously.
The process for collecting location data involves several steps, including anonymization. Users consent to the sharing of their location data by logging in when prompted in an app or browser. SDKs then collect and transmit information about a user's location, including geographic coordinates and time spent. The location data is then cleansed, anonymized and merged into a database to create specific consumer profiles.
What about privacy?
Privacy breaches and data theft have created a wave of concern among users. Awareness of how data is collected and used has increased, and quite rightly so. This and the challenges posed by regulations such as GDPR in the EU and PIPEDA in Canada can have a significant impact on how location data can be used in campaigns
However, it also creates an opening for greater transparency. The more transparent the more loyal customers. Apple is taking the lead in this by explicitly alerting users to apps that collect location data. This will undoubtedly result in less location data being released but the data that is released is much more reliable. Lower quantities of reliable data is always better than large amounts of unreliable data. For example, surveying a representative sample of 3,000 people in Canada provides a very accurate picture of the behaviours and interests of all 30 million Canadians. In addition, the increased awareness of consumers ensures greater support for location-based advertising.
The processing of the data is also crucial in order to guarantee the privacy of the user. For example, we anonymize the locations of users by linking them to a zip code or by making the residential address inaccurate so that it cannot be traced to a specific address and therefore person.
In addition, we work continuously to maintain a watertight strategy on how personal data is handled, processed and used for campaigns - in line with the strictest privacy regulations. Furthermore, we have an action plan for deleting unused, irrelevant and outdated user data. Internal training and procedures also play an important role in regulatory compliance. All contracts of vendors and external suppliers of user data are audited to ensure regulatory compliance.
Read the story of our users